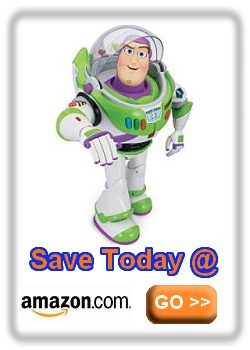 Buzz Lightyear Toy Specs
This years
Buzz Lightyear Toy
is the biggest so far standing at 16" tall. Buzz is also very talk-a-tive which is great for kids because Buzz Lightyear Toy will also have something to share with your littles ones. He has synchronized movement that coordinate when he talks. Buzz comes complete with 15 command buttons for voice, action, sound effects, animation and more.
So you may be wondering what is making all of this animation and movements possible. Well this
Ultimate Buzz Lightyear Toy
has 7 powerful motors that control his blinking eyes, mouth, head, arms, waist, and even leg movements.
Did you know that this particle Ultimate Buzz Lightyear Toy responds to your childs very own voice commands? Just speak to Buzz with voices commands and listen as he responds.
Buzz also has to different modes which is always a hit with the kids. One mode is when Buzz thinks he's a real Space Ranger and responds as if he really thinks he's a Ranger. The other one is the toy mode when he knows that he is toy.
Most of the
Buzz Lightyear Toy

s
out there only stand in place and talk. Not this one. This toy not only walks, he turns, salutes, and even give high fives. In addition to this he shoots his laser with light and sound effects, and talks into his arm communicator. What really unique about this
Ultimate Buzz Lightyear Toy
is that it is programmable. Meaning that Buzz can be moved into several poses, record those poses and play back the sequence.
The
Buzz Lightyear Toy
presented on this site has multiple smarts sensors, multi-directional motion detection, obstacle avoidance, both near and far and autonomous roaming mode. The wireless remote control has a range of upto 20 feet and the interaction target game using this remote will let you know if he's hit or not.
See description and product information below for a detailed list of all the features listed above.
16 INCHES TALL!

He's Huge!!!
100+ SAYINGS in the original character's
voice.

SYNCHRONIZED LIP MOVEMENT

when he talks.
15 COMMAND BUTTONS for voice, actions,
sound effects, animation and more.

7 POWERFUL MOTORS

for his blinking eyes,
mouth, head, arms, waist and leg movement.


VOICE COMMAND:

Buzz responds to phrases
like ''Space Ranger, Fire Laser, Salute, Star
Command, To Infinity and Beyond!" and more.
2 x MODES: ''Space Ranger'' and ''Toy.?
(Say ''Space Ranger'' and Buzz becomes Universe
Protection Unit officer. Say ''You're a Toy''
twice and he switches to that personality!)


BUZZ WALKS

, TURNS, SALUTES, and gives HIGH
FIVES.

BUZZ SHOOTS his laser with light and sound
effects.
BUZZ TALKS into his arm communicator.

PROGRAMMABLE PUPPETEER TECHNOLOGY:

Move or
pose Buzz and he records and plays back those
movements.
MULTIPLE SMART SENSORS.
MULTI-DIRECTIONAL MOTION DETECTION.
OBSTACLE AVOIDANCE, both near and far.
AUTONOMOUS ROAMING MODE.

WIRELESS INFRARED REMOTE CONTROL

works up
to 20 feet.


INTERACTIVE TARGET GAME:

Battle with Buzz
using the remote, he knows if you hit or miss.
Winner of 2009 National Parenting Publications
Awards (NAPPA) Honors Award.
Buzz Lightyear Toy Package Details And Requirements
PACKAGE DIMENSIONS:

18.5" (Height) x 16"
(Width) x 8.5" (Depth).
PACKAGE WEIGHT: 3.3 pounds.
Requires 3 x AAA batteries and 8 x AA
batteries for full-function play. (Batteries Not Included)
Child Safety Warning
WARNING:

CHOKING HAZARD - Small parts. Not for
children under 3 years.
---